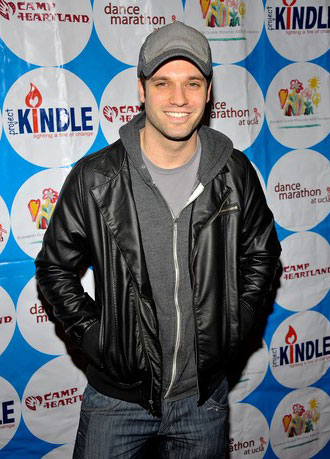 credit: Billy Ingram/WireImage
Toronto's BILLY ELLIOT Welcomes David Keeley and Jake Epstein
Universal Pictures Stage Productions, Working Title Films and Old Vic Productions in association with Weinstein Live Entertainment - have announced today that there are some new additions to the Toronto cast of BILLY ELLIOT, now in its fifth month at the Canon Theatre. Over the coming weeks, five Canadian actors will join the cast, three in major roles...
...New in the role of TONY, Billy's older brother, will be Jake Epstein. A graduate of The National Theatre School of Canada, Jake is probably best known for starring on television in Degrassi: The Next Generation (Gemini Award) and on stage in Spring Awakening (U.S. National Tour). Other theatre credits include Dani Girl (World Premiere, Talk Is Free Theatre), Beauty And The Beast and Cinderella (Ross Petty Productions), Dog Sees God (Rubinoff Productions), Dangerous Liaisons (Segal Centre) and Oliver! (Mirvish Productions). His Film/TV credits also include Jesus Henry Christ (with Toni Collette), Living In Your Car (HBO), My Babysitter's A Vampire (Teletoon), Being Erica (CBC), Charlie Bartlett (with Robert Downey Jr.) and The Zack Files (YTV).
Read the full article here:
Toronto's BILLY ELLIOT Welcomes David Keeley and Jake Epstein
.
Jake also receives a mention about his new role in Billy Elliot in this article
"Canucks join Billy Elliot cast"
in the
Toronto Sun
.
Playing out Jewish heritage: Tapestry New Opera, Luminato, and a look at what's going on in stage this week
Development of new work is as important as the staging of established plays for a theatre troupe, something that the Harold Green Jewish Theatre understands.
In partnership with the Miles Nadal JCC and the Koffler Centre for the Arts, the company launches into its second annual workshop of staged readings. With a nod to Genesis, the series is called In The Beginning: A Jewish Playwriting Festival. All readings are free.
This year's festival includes workshops of four plays that look at Jewish history, experience and tradition...
...The mother/son team of Kathy Kacer and Jake Epstein collaborate on Therefore Choose Life, about a Holocaust victim caught in an unexpected love triangle. Jen Schuber directs (June 14).
Read the full article at
NOW Magazine: Playing out Jewish heritage
.