Jake Epstein in The Story Begins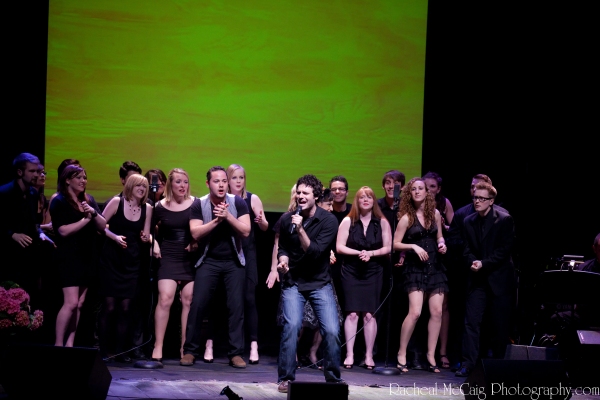 credit: Racheal McCaig Photography
On Monday May 9th the best and brightest Canadian talent came out for a special concert to kick off Theatre 20's 2011-2012 concert series. Entitled The Story Begins, the evening was dedicated to celebrating songs from story driven musicals.
Founded earlier this year, Theatre 20 is a Toronto based, artist-led theatre company formed to present story driven musicals by developing new Canadian works and re-imagining existing repertoire. The group officially launched on January 20th, 2011 at The Panasonic Theatre, and BWW was on hand to bring you photos of that event which you can view
here
.
BWW has been bringing its readers exclusive coverage of the progression of Theatre 20 (starting with the news that Colm Wilkinson would be one of the founding members) and we are now thrilled to bring you photographs from the electric first concert that took place last week. Featuring Colm as a special guest, the concert brought out the best that Toronto has to offer to sing some of musical theatre's most beloved songs.
Throughout the course of the evening video clips were shown of the various members of T20 discussing things such as their favourite composer, their memories of their first musical experience and when and why they decided to pursue a career in musical theatre. The videos were capped off with a feature of the artists explaining why they decided to become involved with Theatre 20.
....The first act closed with Jake Epstein leading the T20 Emerging Artist Choir in a very funny and engaging performance of "Run Freedom Run" from Urinetown.
Read the full article
here
at broadwayworld.com.
credit: Racheal McCaig Photography
0 Comments
Posted on 20 May 2011 by Nicole