The Miami Herald Christine Dolen column: Musical about rock music, rage and the timeless anxiety of being young comes to Miami
by Christine Dolen for
The Miami Herald
...Canadian actor Jake Epstein, who now plays Melchior, also likens being in the show to graduate school.
"It's incredibly grueling, so I'm lucky I love the show," says Epstein, a veteran of the popular Canadian TV series Degrassi: The Next Generation. "It makes you crazy, it's such an intense story line. But you can't half-ass your performance. The show doesn't allow it."
That love scene? He admits that it's tougher for him.
"I find that scene terrifying. I feel scared, excited, crazy -- this mix of emotions. Is it love? Is it lust? Is it violence? It's not my job to decide. I have to be in the moment."
Read more at the
source
.
Actor is unlike the characters he portrays
By Marvin Glassman for
sun-sentinel.com
When an actor plays enough roles as a teen in trouble, people may think his life is in distress as well.
However, the life of 23-year-old Canadian actor Jake Epstein is very different from the roles he has played since being a teen himself, such as the bi-polar teen musician in the television series "Degrassi: The Next Generation" or the Hasidic Jewish gang member in the film "Crown Heights." Epstein is currently starring as the rebellious teen Melchior in "Spring Awakening," playing through May 16 at the Arsht Center.
Epstein is not a malcontent youth although he portrays one. Rather, Epstein comes from a middle class Jewish family in Toronto who have been supportive of his talents and whom he could always talk with. "My parents and sister have been supportive of me as a teen both in my career and in my own quest for independence, not like the teens I portray," said Epstein in a phone interview.
Epstein is deeply proud of his Jewish roots, learning that his maternal grandparents that he never met were Holocaust survivors from his mother, award winning author Kathy Kacer, who writes on children who survived The Holocaust. "The first book I wrote 'The Secrets of Gabi's Dress' was based on my mother. I wrote it first and foremost to my two children as a way of preserving that history for them — and both Gabi (Jake's sister) and Jake have helped me with my research for my books," said Kacer.
Epstein relishes the idea of playing a Holocaust survivor child if one of his mother's books becomes a play or film. "What my grandparents went through is tragic and I would be immensely proud to play such a role on the stage or screen. One of my mother's books is being discussed as a film project, so it would be a way of me paying homage to my family," said Epstein.
Epstein has been acclaimed by critics and audiences alike for his portrayal of Melchior as the teen who needs to express love and disappointment in the repressive nineteenth century of Germany.
"Playing Melchior is a dream come true," Esptein said. "The play is relevant and topical and I hope that parents and teens can talk about the issues the play raises. It's a play that does not talk down to the audience and likes to portray teens who are not shying away from intense issues."
Read more at the
source
.
Check out a video clip of Jake Epstein with his Spring Awakening co-star Christy Altomare
here
, shot after the opening night in Orlando for
cfnews13.com
.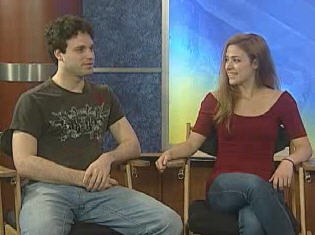 For more screen captures, visit this gallery album.
For other reviews of the national tour visit the official blog:
Spring Awakening Reviews in OrlandoComing soon: screen captures of all the TotallyTrucked you tube webisodes Jake has appeared in.