Entertainment Weekly Scan / Media Extras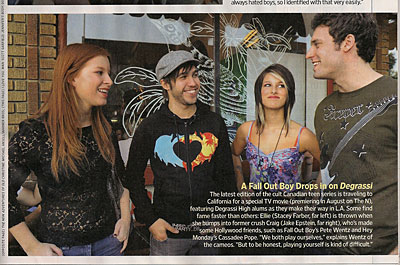 click to see a larger image
The latest edition of the cult Canadian teen series is traveling to California for a special TV movie (premiering in Augst on The N), featuring Degrassi High alums as they make their way in L.A. Some find fame faster than others: Ellie (Stacey Farber) is thrown when she bumps into former crush
Craig (Jake Epstein), who's made some Hollywood friends, such as Fall Out Boy's Pete Wentz and Hey Monday's Cassadee Pope.
"We both play ourselves," explains Wentz of the cameos. "But to be honest, playing yourself is kind of difficult."
Thanks to Justme2000 at FanForum for the scan!
Also:
Check out the
video
section for something that should help all you fan video makers out!
0 Comments
Posted on 09 Feb 2009 by Nicole