Peanuts-inspired Play To Star Degrassi Leads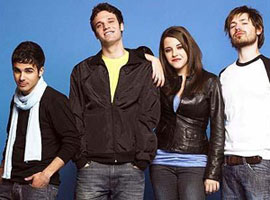 ...Producer Michael Rubinoff is really playing the Degrassi card by casting four of the leads in his production with alumni from the wildly popular show Degrassi: The Next Generation:
Jake Epstein
, Adamo Ruggiero, Mike Lobel and Paula Brancati.
Loosely inspired by the iconic comic strip Peanuts, the free-wheeling satire was a big hit with New York audiences from the moment it premiered at the New York Fringe in 2004 through its opening off-Broadway the following year...
read
more at craig-ashley.com
or at the
source.
See a larger promo image
here.
source:
TheStar.Com
0 Comments
Posted on 09 Dec 2008 by Nicole