Season 6 Screen Caps / The Zack Files



What's It Feel Like To Be A Ghost
Part 1
and
Part 2
caps added to the
gallery
! I tried to include a variety so there probably is a little something for everyone here (besides for um, the Crash fans?).
And everyone welcome
www.degrassi-fans.com
to our top affiliates! There's a new big Degrassi fan site in town, kiddies. It's run by Erin (aka dream943), who is a devoted Degrassi fan and is terrific with doing updates.
The other night I was watching some old Are You Afraid of The Dark episodes and somehow wound up catching a few of The Zack Files, which starred Jake Epstein. It's a cute show! If you were a kid of the 90's, I think you will enjoy it. Nick & Disney just don't make them like this anymore. I have absolutely no recollection of this series other than my brother was at the Disney age and I remember him telling me that it's like The X Files (yes, I understand). So, if you are interested, check out The Baby Jakey Files
here
.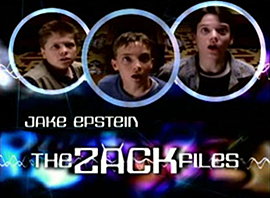 0 Comments
Posted on 10 Nov 2008 by Nicole