About the previous layouts:



High School Lovers

The banner opened with a flash animation of scraps of paper being spread out across the screen and concluded with an image of the couple and title of the site fading in. Some of the things scrawled on notebook paper scrapes included lyrics written by our angsty artists or notes Craig and Ashley exchanged inbetween class. "Meet me in the gym. C." This was inspired by the note Craig taped to Ash's locker in Should I Stay or Should I Go? and their im-ing in Voices Carry. It has such a high school feeling to it. Air's "Playground Love" was an appropriate infulence here for Degrassi's high school lovers.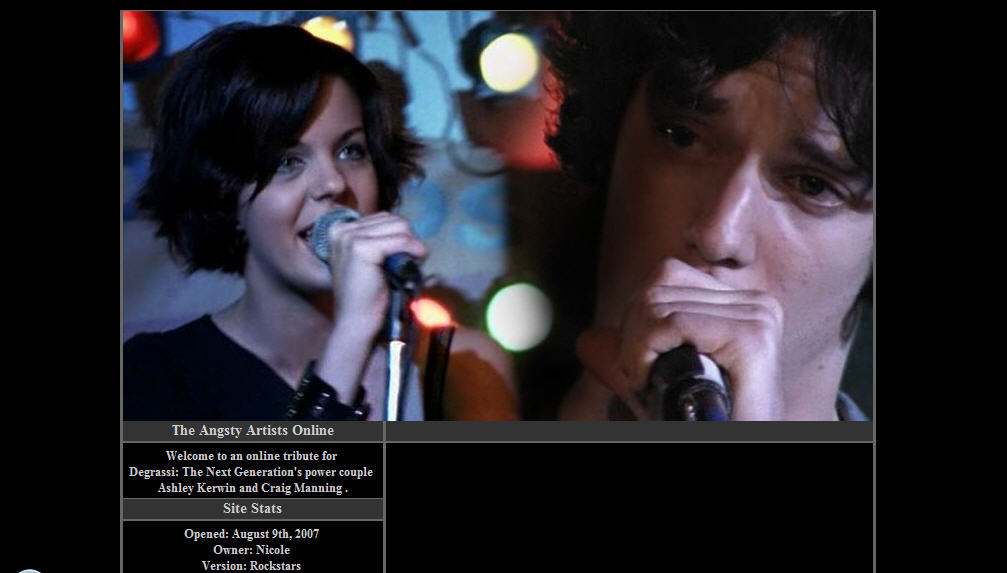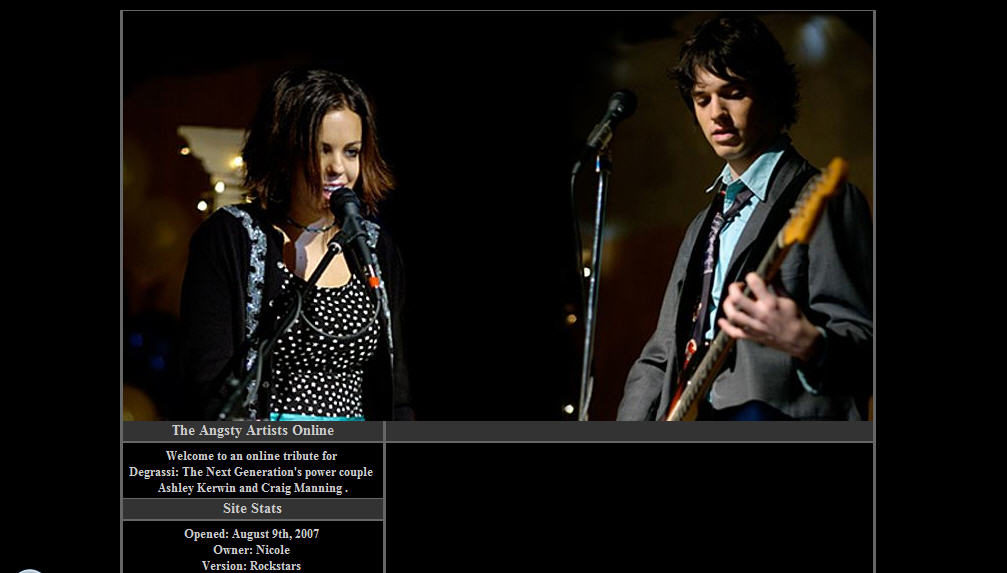 Rockstars

This layout permiered with the episode "Bust A Move," which included a scene of our angsty artists performing "My Window" together. This layout opens with a flash animation of 3 of their biggest performances. It's good to see them back where they belong, on stage and with each other.

About the girl:
I'm not naturally a fan girl. Until Degrassi, I wasn't even aware of all the fandom speak about ships and slang like ftw and otp and ucl and otc and wkoaoski. So I guess that makes Craig and Ashley extra special cause they captured my heart. I don't actively scout out TV shows or "ships." Actually, it's a documented fact that I type relationship as relationshit...I'm not a fan gir,l I swear. I don't know why this one show or ship found me, but it did. I blame my brother, who mentioned this episode called "When Doves Cry." Episode description leaks from my brother plus some holiday break home viewing of "Drive" and I was hooked to Craig Manning. Ashley Kerwin followed. But this IS a shipper website, you realize. And yes, I like the idea of both dating; they are the whole entertainment package. All gushing aside, I present you craig-ashley.com. I hate websites like this in a way. It seems silly. I don't understand it. I own one. You know why you are here.